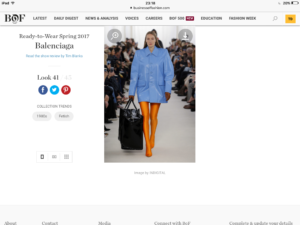 And last but not least, we wander through PFW for the SS17 collections.
" Finir en beaute " as the French would say.
Our last stop to find out if neutral gender awareness was available in the city of light.
To be honest, it was less evident.
We had mainly female collections on show and hardly any unisex presentations.
The big new change here was that we had more women taken over the creative roles in previously male-dominated fashion houses.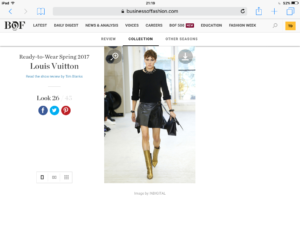 The power impact came across in the Louis Vuitton and Chanel collections, represented by 1980s strong, outspoken shoulders for Nicolas Ghesquiere and futuristic tweeds worn by space odyssey robot-lookalike models for Karl Lagerfeld.
But there was also a strong sense of masculinity or should we name it " Demna-ism " nowadays ?
Demna Gvasalia respected the heritage of Cristobal Balenciaga.
" I analyse and I question ", he said.
We got the girls wearing never ending spandex boots from toes to hips. ( or were they trousers ?)
The masculin touches are seen in his open ankle split trousers echoing a " je ne sais quoi "ambiance.
He's such a refreshingly new kid on the fashion block.